GORFOO
THE " NATURE & FASHION " BRAND !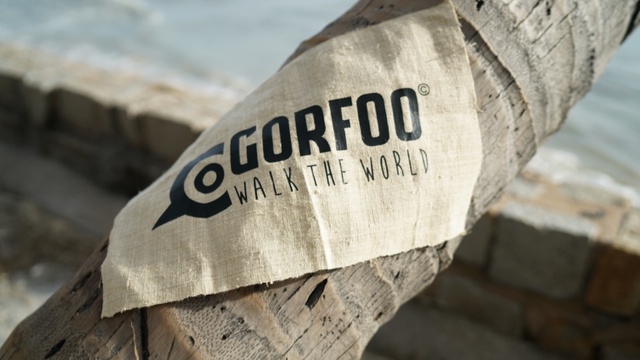 About the project
WHAT IS GORFOO ?
GORFOO is a brand providing garments, shoes and accessories. It is focused on natural materials; we want the least amount of pollution as possible and to not hurt animals in the making of our products.
It is a quest. We are constantly trying to improve by searching for new materials and techniques to bring together nature, science and creativity to make the best products!
GORFOO is also a journey; unique stories, people from many countries building new lives. For us, there are no limits,  and we consider environment as a topic for everybody, everywhere !
THE BEGINNING, STARTING AN ADVENTURE :
Our story refers naturally to the founders of GORFOO...
After breaking a vertebra while doing sports, Charles (podiatrist & boot fitter) had to quit his job because he hardly could move his arms. That is why he decided to focus on ideas he had for many years about shoe designs. He went to England to study about footwear design, to Paris for fashion design, to Holland in order to learn about high technology in 3d printing, and to European fairs to complete his knowledge in footwear. 
After that review of the market, the adventure sent us to Vietnam where Charles visited some of the main footwear producers in the world. His strong passion for materials, nature and sports is guiding the creativity in GORFOO.
For her part, Bea, experienced in international trading, created and drew the GORFOO mascott, inspired by the Rockhopper penguins. " I created GORFOO instinctively... I am a huge fan of comics from Disney to Mangas and especially Kid Paddle ! I have been inspired by the activities of my brother and want to talk about environment in a funny and international way ! "
ECOLOGICAL MATERIALS, A NEW APPROACH IN THE FASHION INDUSTRY :
In the fashion industry, the environement-friendly materials are hard to find and rarely used. Indeed, the fashion and textiles industry in considered as the second most polluting industrial sector after petrol (World Bank). We did a huge logistic and sourcing work to find the best raw materials and consider ourselves as pioneers in the business.
With GORFOO we are using materials in a new and original way. We gather different industries and technologies to create innovative stuff. We select recycled - devulcanized - tires to make our shoe 's outsoles, we did stickers with recycled cotton paper, we use cork to make bags... And we met weavers all over the world in France, China, Australia, Vietnam. It was a challenge to convice industries to make products with these materials ! 
We would like to focus on the hemp from North Vietnam, this is one of the most eco-friendly textile used by the people here for centuries. We use this hemp fabrics to make caps and shoes for the first time ! It also benefits to the local culture by saving a know how and improving the working conditions of these people, we are adjusting the process and the looms to make bigger fabrics.  
We contol our products with independant 3rd party labs and inspectors. We consider the social impact of the economy. A good example is the cinnamon insoles factory which is employing women up to 90 % ! These insoles are made with cinnamon powder inside in order to control the smell and improve blood circulation. 
INNOVATIVE SHOES :
Suitable for men and women, with large and tiny fittings, these shoes are suitable for everyday life. Moreover the orthotic insoles are made to support the feet.
Our innovative "Hybrid" shoe is a crossover between sandals and sneakers. It is refreshing and easy to put on like a sandal and protect and fit like a shoe. The footbed and upper's eco-friendly textile will make it comfortable and fashionnable. It is a convenient shoe that you can easily wash, and you can adjust or change the insoles according to your foot shape. 
Our products are protected by copyright. 
GORFOO: Design, Ecology, Planet !
What are the funds for?
DESCRIPTION
Our goal is to be able to start a production for shoes for summer 2018.
FIRST STEP: 9 500€
The first level would be to collect 9 500 Euros in order to finish the process of designing themoulds and testing the shoes to perfect the samples. 
Moreover that would mean new designs for cork bags.
GOING FURTHER IN THE MATERIALS WITH 25 000€
Another step would be to go up to 25 000 Euros. This would mean going further with our shoes, gament & accessories but also with our partners for traditional hemp weaving: buiding new looms, new machines to make the work easier for the people. Then we could buy new fabrics and have our stock to make our shoes and caps.
We could also do a winter collection for garment such as zipper jackets, sweaters with innovative hemp fleece... Also a line " Made in Paris " !
STARTING A PRODUCTION FOR SHOES: 80 000€
 The ultimate goal for GORFOO would be to collect up to 80 000 Euros, that would mean that we could produce a collection for shoes and launch it in summer 2018 ! 
About the project owner
OUR TEAM:
GORFOO is a family business leaded by Charles and Béa, the other members are sister, uncle, cousin, dad... sharing different point of views and experiences. A special dedication to our great friend Rohan, thanks to Transtech and to everyone we met in this adventure !
We are based in the countryside of France.
Follow us: Facebook (@gorfoobrand) / Instagram (gorfoobrand)
Website: www.gorfoo.net
FAQ
If you still have an unanswered question, feel free to ask the project owner directly.